Chemotherapy is a way to treat cancer that uses one or more drugs that kill cancer cells as part of a set plan. Chemotherapy can be used to cure a person, extend their life, or make them feel better.
Frequently Asked Questions
Chemotherapy is the use of medication (chemicals) to treat disease. More specifically, chemotherapy typically refers to the destruction of cancer cells.
Total remission : To cure the patient completely. In some cases chemotherapy alone can get rid of the cancer completely.
Combination therapy : Chemotherapy can help other therapies, such as radiotherapy or surgery have more effective results. In some cases it is given before surgery (Neoadjuvant therapy) to reduce the size of the tumor to make tumor more amenable to surgery.
Delay/Prevent recurrence (Adjuvant ) : Chemotherapy, when used to prevent the return of a cancer, is most often used after a tumor is removed surgically.
Slow down cancer progression (Palliative) : Used mainly to slow down the progress of cancer in its advanced stages, where a cure is unlikely.
To ensure that the patients are tolerating chemo well and have minimal sideeffects
Judge response of tumor to treatment.
chemotherapyDepending on the type of cancer, chemotherapy may be administered orally or intravenously (directly into the vein).
• Oral chemotherapy in the form of tablets
• Intravenous chemotherapy (straight into the vein) which may be given through.
• A cannula : A thin tube is inserted through the skin into the vein – usually it enters the body via the back of the hand or the lower arm.
• A drip (intravenous infusion) : In order to dilute the medication it may be injected into a bag. The solution in the bag will pass through a tube into the patients arm and into a vein (intravenous infusion). A cannula will be used. The solution will enter the vein slowly.
• A peripherally inserted central catheter (PICC) line : A long, thin, flexible tube that is inserted into a peripheral vein, usually in the upper arm and makes its way into a large vein in the chest near the heart. It is similar to a central line but has a different point of entry.
• A portacath (implantable port) : A thin, soft, flexible plastic tube goes into a vein. It has a port (opening) just under the skin of the chest or arm. The port has a thin rubber disc which special needles can pass medicines into, or take blood from.
Anil Cancer Clinic has trained professionals who will advise the patient on stoma care, breast prosthesis, and various other rehabilitation issues related to Cancer.
Post operative exercises are also taught to the Cancer patients to help them recover fast after Cancer surgery.
The Cancer Care Clinic offer counselling for the patients and their relatives regarding the various fears surrounding the causes of cancer, prognosis and even genetic risk.
We suggest the right investigations for screening depending on the risk factors of the individual.
Robotic surgery even in its current avatar is no doubt an advance over anything previous to it! hoping that the new normal also gets many innovations and improvements to this wonderful surgical instrument! just a short video of a lung surgery for a solitary pulmonary metastasis using the da Vinci Xi robotic system! #roboticlunglobectomy
Enables precise, comprehensive minimally invasive surgery for early stage gynecologic cancer. The improved dexterity and excellent visualization provided by the da Vinci System allows surgeons to:
Offer a safe, reproducible approach for women undergoing gynecological cancer – even for obese women.
Perform a comprehensive cancer surgery and staging procedure that preserves radicality.
Enjoy surgical autonomy and efficiency.
Simply postoperative care and reduce length-of-stay by minimizing trauma, pain and complications.
Expedite the initiation of adjuvant therapy as a result of fast recovery.
Extend the benefits of minimally invasive surgery to more patients, with excellent outcomes and patient satisfaction.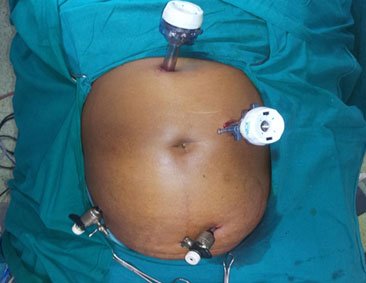 This is a new concept in Oncology. Till now it was thought that cancer surgery can be done only by big mutilating incisions. Now with advanced laparoscopic techniques we can remove cancers from the body with small incisions.
• Any patient with potentially resectable lesions
• Is used more commonly in :
• Colorectal cancers
• Gynaecological cancers
• Urological cancers
• Esophageal cancers
We at Cancer Clinic have an extensive experience of minimal access surgery in cancer. We were among the first to start this patient friendly speciality.