मुंबईतील कन्नड पेपर कर्नाटक मल्ला मधील डॉक्टर हेरूर यांचा लेख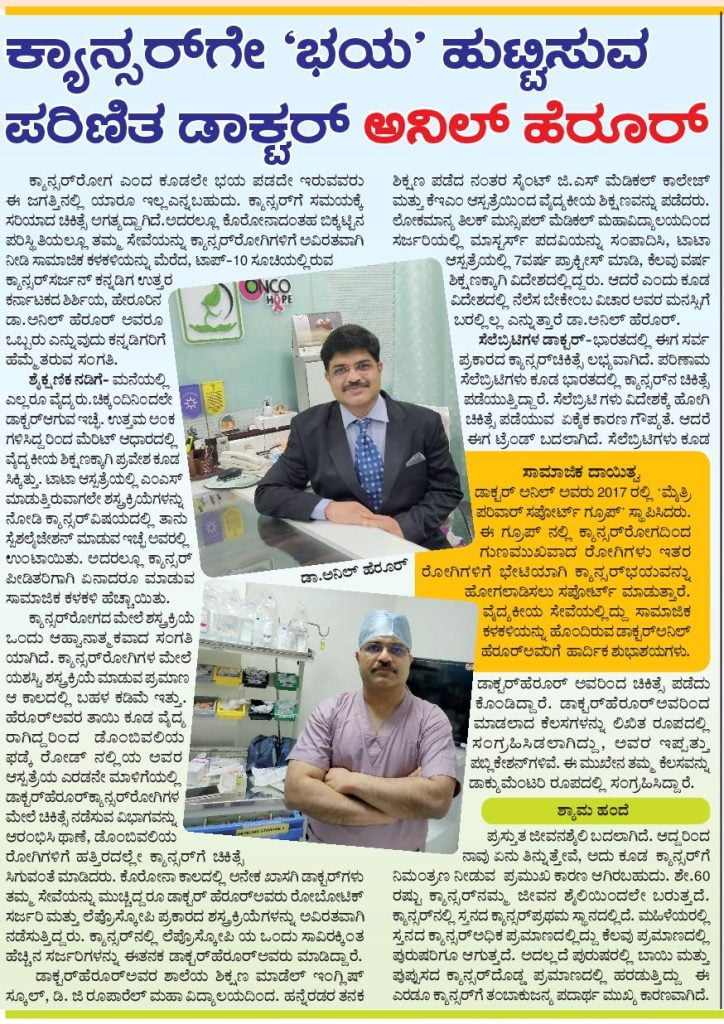 29 August 2021 Tarun Bharat Times
From the desk of Dr. Anil Heroor!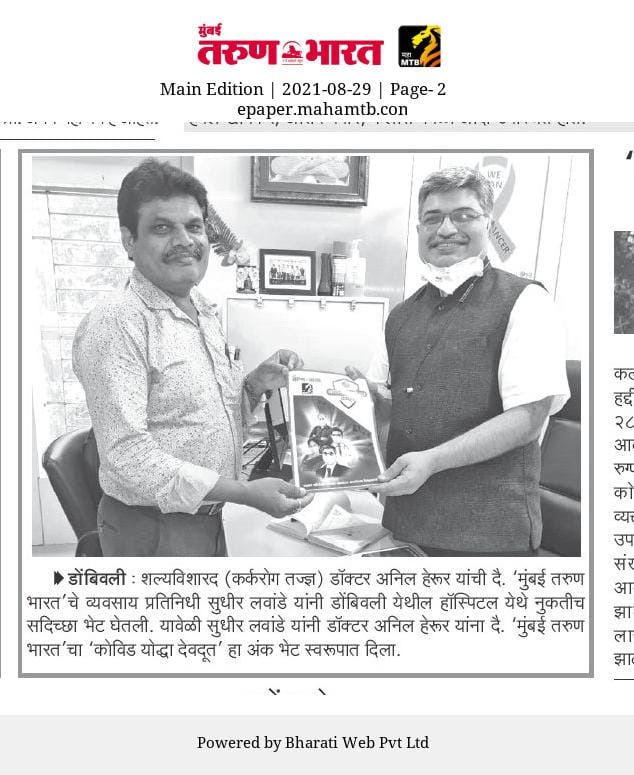 28 August 2021 Maharashtra Times
From the desk of Dr. Anil Heroor!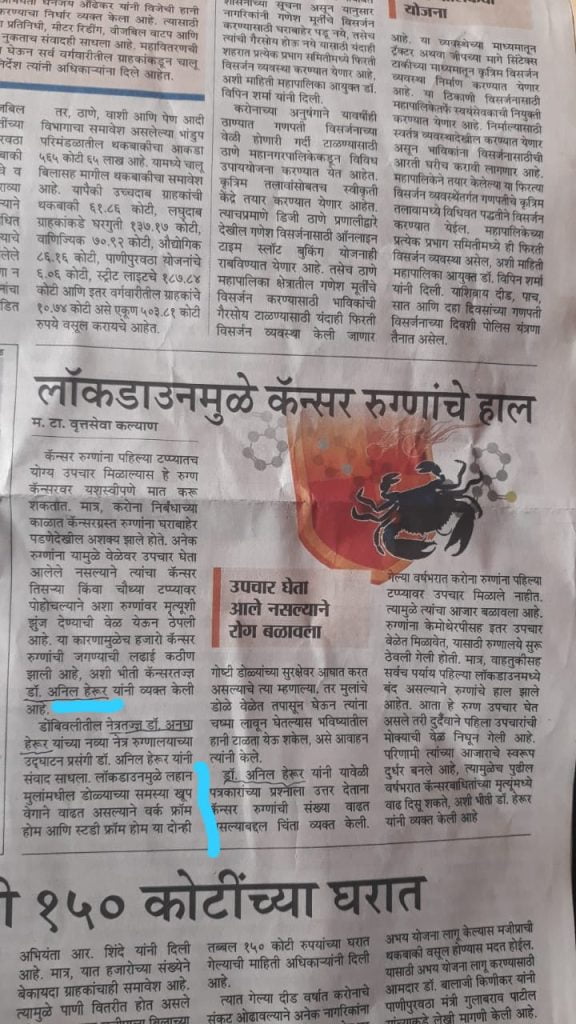 5 July 2021 Top 10 Cancer Surgeons Mumbai Tarun Bharat Times.
From the desk of Dr. Anil Heroor!
2 June 2021 ONCO HOPE presents Maharashtra Times Aarogyam.
From the desk of Dr. Anil Heroor!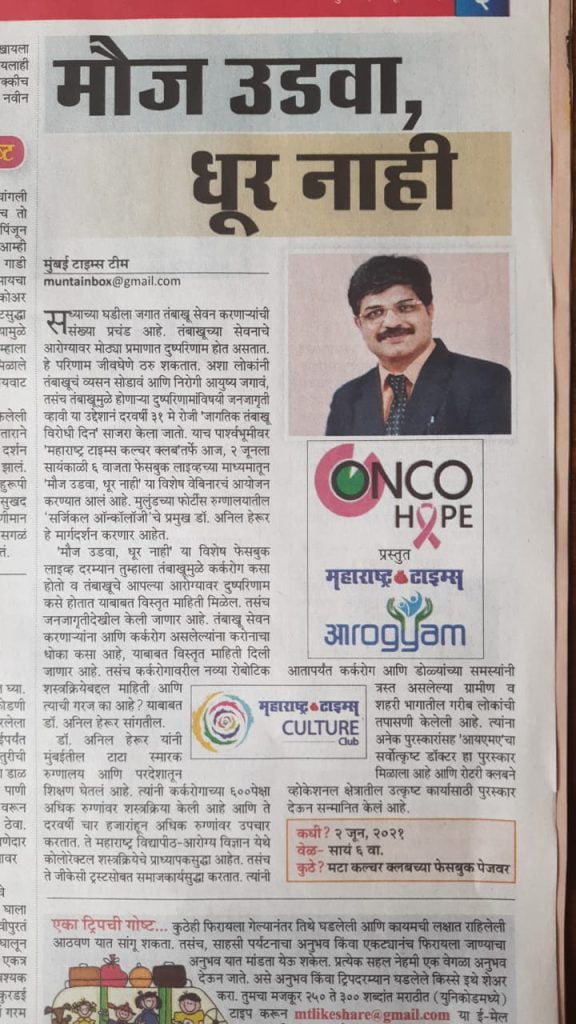 8 Mar'2020 Talk show on Rectal Cancer, Thane
From the desjk of Dr. Anil Heroor!
Privileged to be invited as faculty for the Association of colorectal surgeons of india (west zone) meet. Gave a talk on Rectal Cancer ! Well attended. Kudos to dr Mittal, Dr Niranjan Agarwal, Surgical society, Thane and the CSMC Kalwa for the excellent academic feast !
From the Desk of Dr Anil Heroor-Demo for Laparoscopic Gastrointestinal Oncosurgery in Dhaka
Visiting and operating in various hospitals around the country and our side the country is such an interesting thing. Was privileged and honored to be invited to the National Cancer Institute Dhaka Bangladesh for a demonstration for Laparoscopic Gastrointestinal Oncosurgery. Lecture in the evening and 3 surgeries back to back at the hospital. A very keen enthusiastic team led by Prof Setabur Rehman. Working with Dr Zillaur, Dr Abdullah, Dr Jahangir and others and exchanging ideas was amazing! Meeting my friend Dr Abdullah Mamun and seeing his new place of work was another highlight. Visiting Dhaka is always a pleasure friendly people enthusiastic surgeons and warm hospitality!
13 August Webinar – MIS Colorecton 2020
From the Desk of Dr Anil Heroor!!
Was invited faculty for the MIS Colorecton conducted by the Meril Academy. Getting used to the new normal of online interaction. This was streamed live and watched by 500+ surgeons ! Spoke on Lap Right hemicolectomy. Thanks to my esteemed co speakers Dr Baiju Senadhipan and Dr Rajesh. Bhojwani.
30 July 2020 SELSB Webinar
From the Desk of Dr Anil Heroor!!
Privileged to be invited as faculty for an excellent webinar organised by Society of EndoLaparoscopy Surgeons of Bangladesh (SELSB) on colorectal cancer. Well attended by several senior surgeons including Prof Sanowar Hossain, Prof Motior rehman , prof Towhidul Alam (President of SOSB) , our own dear Dr Shailesh Puntambekar and other senior faculty and several practising surgeons ! Excellent interaction and good learning . Presented a talk and video on splenic flexure mobilisation and. Left hemicolectomy. Thanks for the invite Prof Sareer Nayeem and Prof Samiron Mondal .
From the Desk of Dr Anil Heroor !!
Had a wonderful conversation with luminaries like Dr Sanjay Oak , Head Covid task force, Dr Rahul Pandit head intensivist, Fortis Dr Atul Limaye and famous psychiatrist Dr Harish Shetty in a New Age hospital.

 
On Facebook : https://www.facebook.com/onemdhealth/videos/679877582598013/
From the desk of Dr Anil Heroor !!
Conducted a closed group masterclass in laparoscopic colorectal cancer surgery attended by 30 surgeons across India and Bangladesh! Lovely interaction..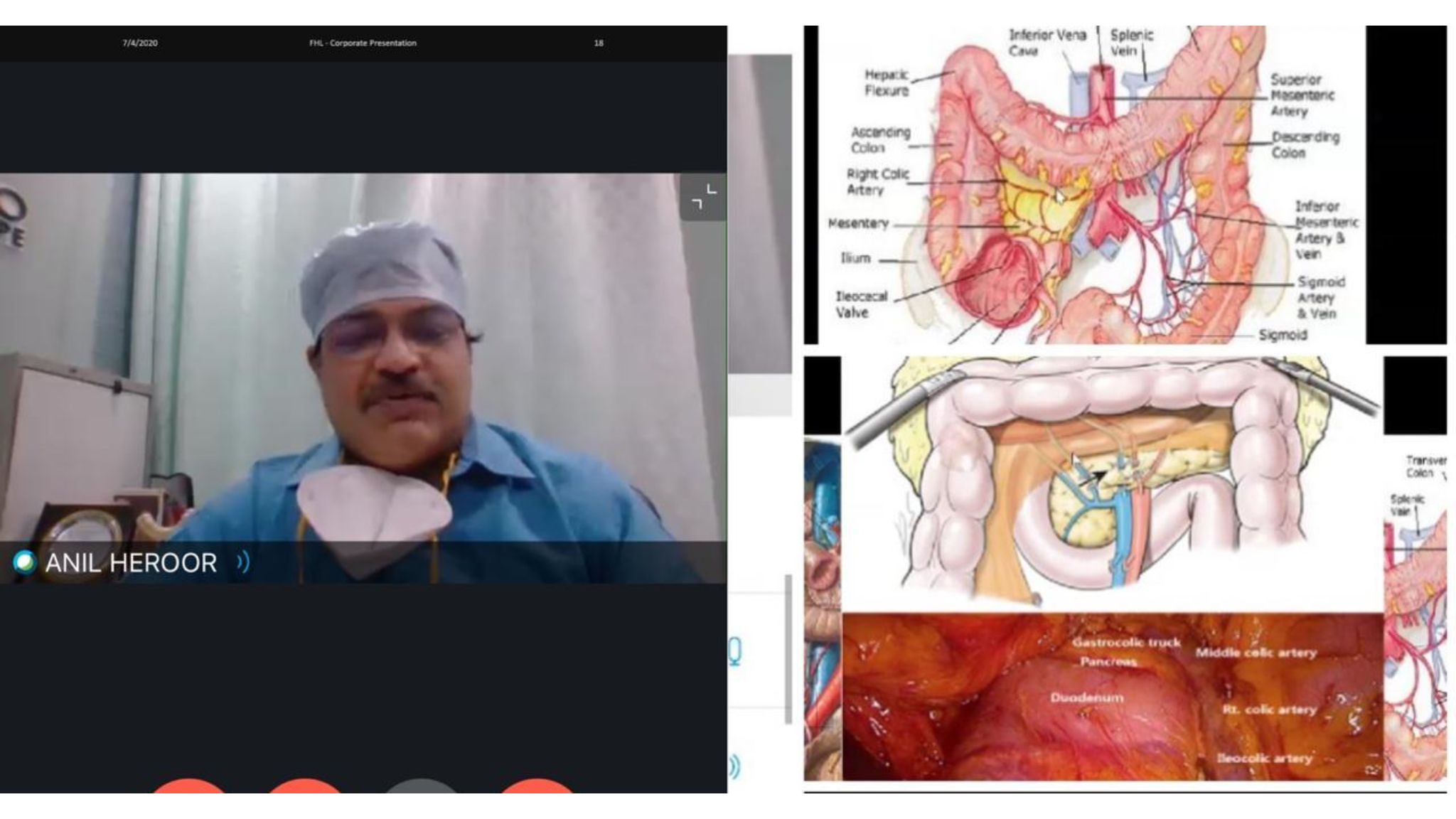 From the Desk of Dr Anil Heroor – IAGES February 2020
Honoured to be invited as faculty for IAGES 2020 at Guwahati. Great meeting..Beautiful venue good academics. Lovely show by Dr Subhash Khanna and the organising commitee. Great work by Dr Raman Goyal and the IAGES team. Met friends classmates like dr Ashwin Masurkar.
From the Desk of Dr Anil Heroor – 4 Jan'2020
Well spent weekend!!! Participated in a camp for the Thane police organised by Fortis hospital, Vihang trust and the Thane Police commissionerate! 700 police were screened. Nice interacting with the very erudite Thane C-P Mr Phansalkar, Mrs Parisha Sarnaik and the volunteers ! This was followed by a talk on ELAPe, a rectal cancer surgery at Delhi under the Delhi Chapter of Asi and RTCOG! Nice to meet Old friends and make some new ones like dr bhattacharya from kathmandu and dr tarun mittal from delhi . Thank you dr deep goel for the invite ! The icing was the party with my OT team on Saturday for the 50 robotic surgeries
From the Desk of Dr Anil Heroor!!! – 31 Dec'19 Talkshow on Breast Cancer Awareness
"Books are the biggest examples of magic created by humans". So said a wise man. And when a book loving owner of a library with a 30 +year legacy decides to hold a awareness drive for breast cancer you have to be there! Mr Pai of Friends library organises the Friends'katta a platform for sharing social issues. This time he invited 'Maitree pariwar the Cancer winners group' and me for a talk on breast cancer awareness. Mrs Purohit spoke wonderfully on the various aspects of breast cancer need of early diagnosis and treatment. Jyotsna, Mrs Naik, Mrs Savita all shared experiences in ways that touched hearts and gave hope to many. Was wonderful to interact with an informed audience. Thank you Mr Pai and Maitree parivar for the wonderful evening!
From the Desk of Dr. Anil Heroor !
9 Dec'19, Demo of Laparoscopic Anterior Resection for D2K Surgeons Association
Spent the Sunday morning interacting with surgeons from the newly formed Association of surgeons of D2K ( Dombivli to karjat). I demonstrated a Laparoscopic Anterior resection for rectal cancer. Very engaged and knowledgeable audience! Lots of young surgeons who are on the top of their game ! Great organisation by Dr Rajiv karavande, Dr Ashok borissa and Dr A A Rode and team. Thank you for the invite. Thank you Dr Supriya, Amey and team Fortis Kalyan for the support and hospitality!
From the Desk of Dr Anil Heroor!
Was faculty at the extremely well organized and well attended Proctology-ACRSICON 2019 at the Hyatt , Mumbai. Shared my thoughts on intriguing topic "Transverse Colon – Right surgical approach" and was a part of the panel on "Safe Surgery for rectal cancer". A proud moment was when our fellow Dr Tejas presented our data on "Quality of life after Laparoscopic Colorectal surgery" one of the first indian studies on the topic. The paper won 2nd prize . Icing on the cake was meeting old friends like Dr Abdullah Mamum and Prof. Hossain from Dhaka, Bangladesh and making new ones. Well organized meet . Kudos to the team of Dr Niranjan Agarwal, Dr Roy Patankar, Dr Mittal and the rest of the team!
From the Desk of Dr. Anil Heroor! 16 Sep'19, Endosurgery – National Congress Conference, Vapi
Great opportunity to interact with a galaxy of faculties and delegates in the Endosurgery – World Congress at Vapi. Around 80 national and international delegates attended. Demonstrated a live surgery – LAPAROSCOPIC ANTERIOR RESECTION for a low cancer rectum. The surgery was relayed from Fortis hospital Mulund.Was received well.Thanks Dr Jayesh Shah and Dr Shrivastava for the opportunity!
From the Desk of Dr. Anil Heroor! 15 Sep'19 Celebrating 25 years of laparoscopy at KEM hospital
Excellent meeting organised by Dr Abhay Dalvi sir and Dr Aparna Deshpande at KEM Hospital. KEM Hospital was at the forefront of the Laparoscopic revolution in India and this meeting was an appropriate way of celebrating 25 years of laparoscopy . Presented a mastervideo on left radical hemicolectomy. Good to meet old friends make new ones and most importantly the blessed feeling of giving a talk in the your alma mater where you were once a student !! Thank you Dr Aparna Deshpande and team ! Viva KEM !!
From Desk of Dr. Anil Heroor! 5 – 7 July 2019 Workshop on Colorectal cancer surgery in Fortis hospital. Mulund
Conducted a Robo-lap Colorectal cancer surgery workshop for surgeons from Bangladesh on 5, 6 and 7th July 2019. Six senior surgeons mostly from Government medical colleges from Dhaka, Chittagong and other places shared their experience with us at Fortis hospital Mulund. Did a robotic Anterior resection among other surgeries. We ended the workshop with a hands on animal lab session at Ethicon institute. It is always a pleasure to exchange notes with senior experienced surgeons from various countries # Robo-lap workshop
 From Desk of Dr. Heroor! 24 Mar'19 6th Laparoscopic colorectal demonstration program
Successfully completed the 6th Laparoscopic colorectal demonstration program for practicing surgeons.! We had 5 senior surgeons from Dhaka Bangladesh coming to observe Laparoscopic colorectal procedures. It was great to exchange notes with practicing surgeons from both government and private setups in Dhaka. We could show the whole spectrum from right hemicolectomy to Anterior resection in colorectal cancer which was very satisfying. There was also a didactic and wet lab training session on the animal models in the Ethicon Institute at Mahim. It is always nice to have such well versed yet enthusiastic delegates for a program. Thank you Dr Arul for your unwavering support. Thank you my surgical colleagues Dr Nikhil Dharmadhikari, Dr Tejas, Dr Nishigandha and the anesthesia dept., Nursing and technician staff and Dr Narayani, Dr Kunal and Fortis management !
From Desk of Dr. Anil Heroor ! 9 & 10 Mar'19 Annual review of GI Oncology 2019
The Annual review of GI Oncology 2019 was organised successfully today. Two days of intense focussed academic program reviewing the latest in Gastrointestinal oncology. Stalwarts from across the country north south east and west participated debated and unravelled the new frontiers. Surgical oncologists medical oncologists GI surgeons about 250 in all attended the meeting. Nice to see the effort of our team of Dr Adwait Gore, Dr Tejinder Singh, Dr Muzammil, Dr Ganesh Nagarajan, Dr Nilesh Lokeshwar and myself bearing fruit. Excellent support by Nimesh Bafna and the River Route team. Thanks once again to the eminent faculty who came all the way and gave their precious time to make this a success. Hope to make it bigger next time!
From the desk of Dr Anil Heroor !
Invited to give a talk at a focussed GI meeting GI surgicon held at Delhi by Dr Pradeep Jain from Fortis Shalimar Bagh. Excellent meeting with clear agenda and good informative talks . Met up with colleagues Dr Niranjan Naik and others from FMRI . Kudos to Dr Pradeep Jain and Fortis Shalimar Bagh team !
From the Desk of Dr. Anil Heroor!
Was a Part of Rectal Cancer Treatment Outcomes Group… A very good initiative by Dr.Deep Goel and Dr.Bhalla from BLK hospital Delhi. In a country where lack of standardisation is the norm this attempt to get together people dedicated to the field is commendable. was good to share thoughts with stalwarts from across the country working in some of the most High volume centres.
From Desk of Dr. Anil Heroor!
Always a privilege and honour to speak in your alma mater ! Enjoyed being part of a focussed CME on Colorectal cancer surgery organised by Dept of Surgical Gastroenterology,KEM hospital . Kudos to Dr Chetan Kantharia and team ! Infact what made the day so blessed that I presented a video on Colorectal cancer ~ Laparoscopy left hemicolectomy in front of my teachers in General surgery and MBBS Dr. Dharap, Dr Prabhakar and in the afternoon shared the dias with Dr. Raman Deshpande my mentor in the Lung cancer master class ! Rare privilege!
From Desk of Dr. Anil Heroor!
Was a part of a great initiative of Surgical Society Thane… The MASST workshop in association with Department of Surgery RGMC, Kalwa.. 13 major cases ranging from Appendisectomy, various hernia repairs, to esophageal surgeries and colorectal surgeries. Good national faculty and lot of local representation. Was fortunate to be a part and could demonstrate a Laparoscopic Anterior Resection for cancer rectum!
Dr. Anil Heroor Live on News 18 Lokmat on 31st May 2018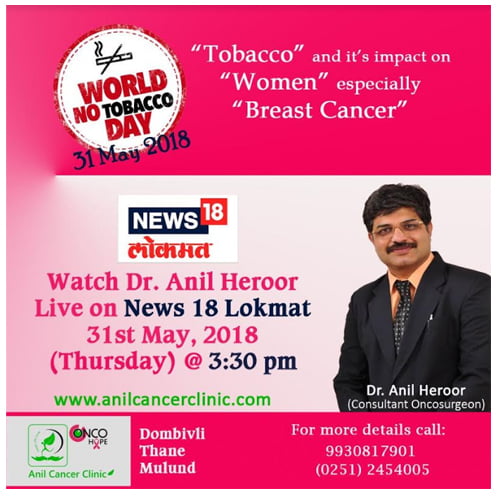 Dr. Anil Heroor Live on News 18 Lokmat on 14th July 2018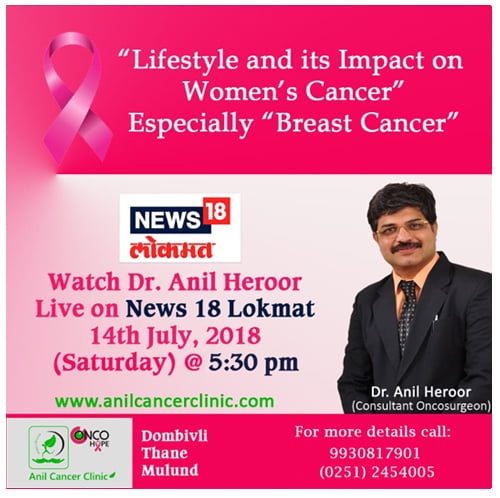 From Doctors Desk !
Spreading the Word! … Felt nice to host an enthusiastic group of surgeons from Bangladesh and Nepal for a three day workshop on Laparoscopic Gastrointestinal Onco surgery. What was good was we could demonstrate the whole spectrum … Lap R hemicolectomy for cancer right colon, Lap ultralow AR for cancer rectum, thoracolaparoscopic esophagectomy for cancer esophagus lap radical distal gastrectomy for ca stomach and a sigmoid colectomy! Adding icing to the cake was the attendance of our fellows from Uganda and India! Felt thrilled to be part of a multinational group imparting whatever little i have learnt ! Thanks to the management at Fortis hospital mulund especially Dr Narayani for supporting this ! Thanks dr Arul as always and my ot team of Anesthetics, residents and nurses ! Also Nazir and Ethicon did a good job by helping organise this feast.
On the heels of doing a focused program for international delegates had an opportunity to present a master video of laparoscopic right hemicolectomy today before senior Onco surgeons GI surgeons and students. Well organised meet of GI oncosurgery by Dr Kiran Kothari and Dr Somsekhar at the Meril Academy in Vapi! Good academic feast!